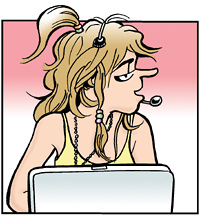 Alex Doonesbury is the daughter of Mike Doonesbury and J.J. Caucus.  She was born November 30, 1988.  In June 2012, she married Toggle.  On January 22, 2013, it was announced that she was pregnant with twins.
Alex was born on live television. Mike was at B.D and Boopsie's house, having been left by J.J. when he planned an affair with Nicole, when it was shown and took a plane over to come to J.J. and Alex. 
Section heading
Edit
Write the second section of your article here. Don't forget to add a category, to help people find the article.
Ad blocker interference detected!
Wikia is a free-to-use site that makes money from advertising. We have a modified experience for viewers using ad blockers

Wikia is not accessible if you've made further modifications. Remove the custom ad blocker rule(s) and the page will load as expected.